Employment Law & Workplace organising
10 June 2018
Venue: Draper Hall, 1 Howell Walk, London SE1 6TL
Organiser: United Voices of the World (UVW)
United Voices of the World (UVW) is an autonomous members-led, campaigning trade union, mostly representing low waged migrant workers in the service industry, as well as workers in other sectors. Using a fighting combination of direct and legal action, UVW won significant victories for members including at the LSE. Harrods, Sotheby's and the Daily Mail. Petros is a founding member of UVW and has been representing and organising workers for the past 6 years. Richard is a UVW employment tribunal case worker and splits his time between UVW and Southwark Law Centre.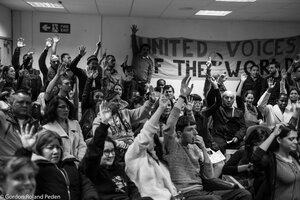 A short introduction and participatory workshop around employment law and workplace organising by United Voices of the World activists.
This workshop is for anyone who wants to know their rights at work and how to effectively enforce them at the workplace, through the courts and in campaigns.
No previous experience or knowledge required.
Entrance is on Hampton Street, next to the Santander bikes stands.