From Empire Windrush To The Commonwealth & Windrush Scandal (1948-2018)
15 June 2018
Venue: Hackney Archives, Dalston CLR James Library, Dalston Square, London E8 3BQ
Organiser: Kwaku
Kwaku is a music industry and history consultant. He's the BTWSC/African Histories Revisited co-ordinator, and organiser of British Black Music Month in June/July, International Reggae Day UK on July 1, and the year-long African Jubilee Year 1987-88 @ 30 programmes. His programmes are posted at www.BBM.eventbrite.com and www.AfricanHistoryPlus.eventbrite.com. The premiere of the full version of the 'Britain's Contribution To The Development Of Reggae' documentary opens British Black Music Month 2018 on June 1.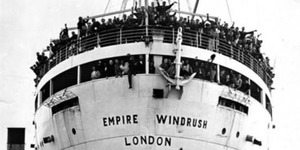 2018 is supposed to be the time to celebrate the 70 year legacy of Empire Windrush and the Windrush Generation. Unfortunately that has been marred by what is mistakenly called the "Windrush Scandal", which is in fact a Commonwealth-wide issue.
In this presentation, history consultant Kwaku in marking African Jubilee Year 1987-88 @ 30, will address some of the generally held misconceptions surrounding the Empire Windrush's voyage from the Caribbean to Britain in 1948, highlight some of the British government's conversations and what it did to limit Caribbean and New Commonwealth migration from the 1940s to 1960s, and show why what's playing out in 2018 has a long back-story stretching back more than 70 years.
The presentation is followed by a discussion, which allows the audience to interrogate the issues raised in the presentation.