Max Gluckman's 'The Bridge' - Social Anthropology & De-colonial Practice
12 June 2018
Venue: Housmans Bookshop, 5 Caledonian Rd, London N1 9DY
Organiser: Tim Gluckman
Tim Gluckman led two walks as part of 2017 Antiuniversity and took part as a student in the 1968 Antiuniversity.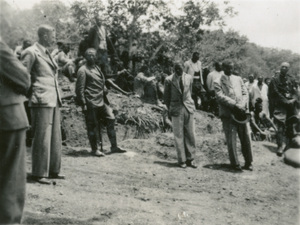 My father, Max Gluckman (1911-1975), was a founding member of the influential Manchester School in social anthropology and a lifelong anti-racist and anti-colonial political thinker. He was one of the very few people in the UK at the time who worked to change public attitudes towards the Mau-Mau by making broadcasts on the BBC and writing articles in the then 'Manchester Guardian'.
This is a short, no-budget film about his life and work. After a short introduction to Max's colourful life, the film features excerpts from a paper read by the author Prof. Pnina Werbner. Her text deals with the 'amnesia' displayed by many radical critiques of social anthropology concerning the Manchester School of which Max Gluckman was a founding member.
In particular her paper focuses on the seminal essay by MG 'The Bridge: Analysis of Social Situation in in Zululand'. The images in the film mainly consist of photos Max and Mary Gluckman took in Zululand and Barotseland between 1938 and 1940. These photos have been digitised by the Royal Anthropological Institute who have kindly given permission for their use in this film. Max and Mary were amongst the first social scientists to use a camera (B&W) to show the realities of social relations between people of colour and Caucasians. Part of that reality was that MG was banned from entering Zululand.
Later this year the first biography of MG 'The Enigma of Max Gluckman' by Prof. Robert Gordon will be published.