performingborders | LIVE | Curating Borderless Spaces
22 June 2019
Venue: Live Art Development Agency, The Garrett Centre, 117 Mansford Street, London, E2 6LX
Organiser: Alessandra Cianetti & Xavier de Sousa
performingborders | LIVE is a programme of events and new commissions focusing on the exploration of artistic practices happening within the UK live art sector around notions of cultural, juridical, racial, gendered, class, physical and everyday borders. Curated by Alessandra Cianetti and Xavier de Sousa. Presented by performingborders and Foreign Actions Productions in collaboration with Live Art Development Agency (London, UK), Contact Theatre (Manchester, UK), Attenborough Centre for the Creative Arts (Brighton, UK), Artsadmin (London, UK), Deptford Lounge (London, UK), Beyond the Wall/Más Allá del Mur Festival (Nogales, US/Mexico), and the Centre for The Study of Sexual Dissidence (University of Sussex, UK). Supported by the Arts Council England.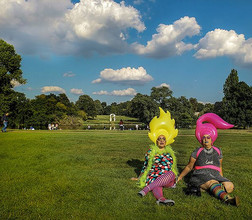 | | |
| --- | --- |
| After a series of pilot events across England and Nogales (US/Mexico border wall), the first performingborders | LIVE concludes with a day of performances, commissioned premieres, talks, food, and provocations at the Live Art Development Agency in London. |
Curated by Alessandra Cianetti and Xavier de Sousa, and starting from the cue 'Curating Borderless Spaces', the day will focus on highlighting and platforming urgent voices and discourses within the Live Art sector on how we can work together in creating collaborative borderless, anti-racist, non-binary, feminist, non-ableist, post-colonial spaces.
Kicking off the day with a keynote by interdisciplinary artist, educator, and activist Raju Rage, the event will see the premiere of commissioned performances-to-camera by Istanbul Queer Arts Collective and Tara Fatehi Irani, along with new digital conversations on Live Art and borders by Burong and Critical Interruptions. Everyone is invited to participate in a communal live group conversation dotted by the interventions and provocations of guest artists Bojana Janković, Dana Olărescu, Malik Nashad Sharpe, Kai Syng Tan and Helena Walsh.
Writer in Residence Season Butler will respond to the discussions and exchanges of the day through live writing and she will close the event with a performative response to the day's proceedings.
Everyone is welcome! More information about the series is on http://www.thisisliveart.co.uk/whats-on/performingborders-live-curating-borderless-spaces