R&R Sewing and Riot Grrrl as an Intent not a Genre
22 June 2019
Venue: The Old Waterworks, North Road, Southend on Sea SS0 7AB
Organiser: Ruth Hazel and Ruth Jones - R&R
R&R are Ruth Hazel and Ruth Jones who are studio artists at The Old Waterworks and members of the Agency of Visible Women. Hazel identifies as a queer, working class artist and their practice encompasses carnivalesque performance under the alter ego of Fanny Von Beaverhausen. Jones uses bacteria and public intervention to hold space for womxn and uses curation and collaboration to platform a broader intersection of womxn artists locally and internationally.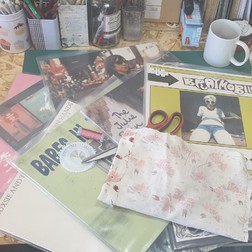 Ruth and Ruth wlll introduce the practice of hand sewing and making alongside round table discussion to share knowledge and skills with Riot Grrrl* music as a prompt and is aimed at womxn, femme, non-binary and gender non conforming people.
Participants can send R&R a Riot Grrrl song suggestion in advance and each will be played through the duration of the event as a conversation icebreaker and prompt for positive femme community building and unpacking internalised misogyny.
Participants are invited to bring some items of fabric or clothing they wish to repurpose into a reusable bag to carry unpackaged vegetables and fruit as the discussion will centre around the empowerment of womxn and their support networks in enacting positive climate action.
*R&R are happy for Riot Grrrl suggestions to include music written and permformed by womxn, femme, NB and GNC people and which has inspired and empowered you in your identity and to enact change.