T.S. Idiot's School of Combustion
9 June 2018
Venue: Fish Factory, Commercial Rd, Penryn TR10 8AG
Organiser: T.S IDIOT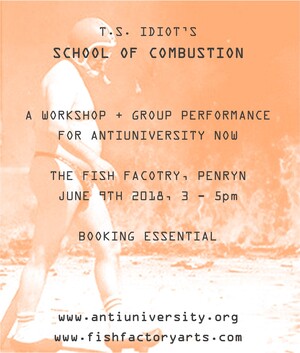 T.S.Idiot's School of Combustion' - A workshop and group performance for Antiuniversity Now.
In 2016, artist, poet and poorly prepared provocateur T.S. IDIOT burnt his degree from Falmouth University. Comments on this performance ranged from "What an idiot" to "I'm afraid your writing is fairly naff". He has since performed alongside Attila The Stockbroker and met backstage with John Cooper Clarke.
But despite these carefully crafted criticisms, he can't get another one (unless he spends £32 and a lot of pride on a reprint). So join this idiot on a path to freedom - enroll, graduate and then combust from the University of Idiocy in under 2 hours!
Booking essential - Free for most, £9000 for Anne Carlisle