Tenants of the World Unite // A History of Rent Strikes
14 June 2018
Venue: Room 784, UCL Institute of Education, 20 Bedford Way, Bloomsbury, WC1H 0AL
Organiser: RENT STRIKE
Rent Strike is the national working group for spreading and supporting rent strike action at university campuses all over the UK. // High rents in university accommodation are a symptom of the marketisation of higher education in the UK, and of the financialization of the housing market. We seek to build solidarity between struggles as a result of these reforms, and also to realise a future of free, accessible, and democratised education.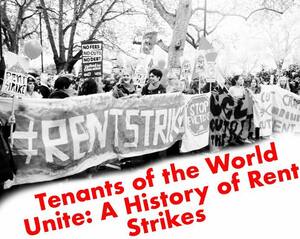 A rent strike takes places when tenants organise to collectively withhold their rent. It has been a protest tactic used against landlord at least as far back as the 1900s. Rent strikes are stories of extraordinary collective resistance, of radical community organising, glimmers of hope in the dark sordid history of capitalism and the exploitation of the working class. They are a realisation of collective power and a reminder that the force of change lies in the hands of the people. Sometimes used to support a general strike and other wider struggles, rent strikes have been instrumental in changing legislation around housing and tenants' rights.
The talk will take a look at rent strikes throughout history, and will hear from organisers of UCL Cut the Rent, London Renters Union and ACORN.