Xenia - Workshop for Women
15 June 2019
Venue: Hackney Museum, 1 Reading Lane, London E8 1GQ
Organiser: Xenia
The event is hosted by Xenia, a small community group of English speakers and English Learners. Xenia is co-ordinated by a bunch of 9 women who are passionate about bringing together women from many backgrounds to converse and practice English.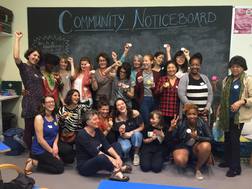 Women from all walks of life are invited to come along and meet, connect and learn in our next Xenia meetup for women. English language learners and women who are confident in English will participate in activities together, discovering the area, talking and forming relationships. At each meetup we use a different theme to enable conversations to flow and friendships to form.
Are you learning English? Come and make a friend, practice English, learn new things, and share your culture.
Do you speak fluent English? Come and make a friend, practice whatever you want to, learn new things, and make London a more welcoming place.
You are welcome to bring your children.