23 Years Of The Criminal Justice Bill
13 June 2018
Venue: New River Studios, 199 Eade Road, London N4 1DN
Organiser: New River Studios
New River Studios is a not-for-profit arts' centre in Manor House, North London. Distant Planet is a group of veteran DJs and musicians from London's squat party and underground music scene. Continuously active since before the CJB was introduced, they are very well-placed to help curate this event, and our thanks to them.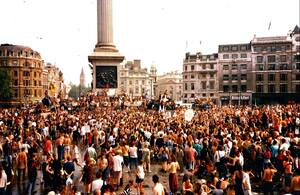 The Criminal Justice and Public Order Act of 1994 is best known as the bill that aimed to wipe out free party culture in the UK, but it brought other equally profound changes to British society. An accused person's right to silence was curtailed, police stop and search powers were enhanced, and perhaps most significantly, the CJB effectively criminalised the travelling way of life in the UK.
As part of this year's Antiuniversity Now festival, we are inviting a panel (and hopefully an audience) of experts to lead an open discussion on the effect 23 years of this bill has had. Has it been effective? What have we lost? How have we responded? Guest speakers include author and historian Alwyn Turner who's book "A Classless Society: Britain in the Nineties" looks exactly at the period in question and Rainbow Phoenix, spokesperson for the movement and association that opposed the bill. A playlist of music from the era will be compiled by the Distant Planet DJs.
Watch the conversation on https://www.youtube.com/watch?time_continue=2023&v=FfiNe-nPxHQ