56a Infoshop: Food, Archives and Radical Walk
10 June 2018
Venue: 56a Infoshop, 56a Crampton St, London SE17 3AH
Organiser: 56a Infoshop
56a Infoshop is a long-term volunteer-run, 100% unfunded, DIY social centre in Walworth, South London. We share a collectively run building with Fareshares food co-op and 56a Bikespace.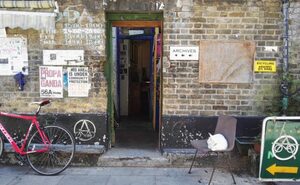 An invitation to spend time in and around the 56a Infoshop - radical social centre and archive in Elephant & Castle, South London.
We will share hot food, do things together in our huge archive and take a short but radically-infused history walk around the Pullens Estate where the Infoshop is.