Affordable weaving Spinning Your Own Paper Yarn
21 June 2019
Venue: Boulder Public Library, Eldorado Room, 1st Floor, 1001 Arapahoe Avenue, Boulder, Colorado, USA
Organiser: (re)claimed
(re)claimed is a collective organized by students Shanel Wu, Nathalia Campreguer, and Mikhaila Friske that questions economic, political, and social structures by reclaiming materials, tools, and data. Shanel Wu (they/them) is a graduate student researching smart textiles, as well as a rogue physicist and fiber crafter. Nathalia Campreguer (she/her) learned all sorts of crafts growing up with her Grandma and loves to experiment with alternative materials. She is also a graduate student in Human-Computer Interaction. Mikhaila Friske (she/her) is a graduate student in Information Science exploring themes around the topics of queerness, craft, and smart textiles.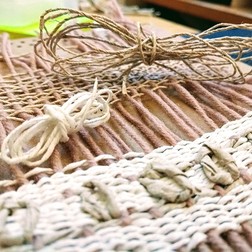 Inspired by the traditional Japanese art of paper yarn making, we will reshape flat pages of paper into raw material for crafting three dimensional objects. In creating our own yarn from books, diaries, newspapers and other print media, we will be exploring the importance of materiality in the process of making and the meaning it brings to the final design concept.
First, will learn how to make and use a low-cost drop spindle, a useful tool to ease the process of spinning paper into yarn. In sequence, we will learn how to properly prepare the paper to be spun, use the spindle to create the threads and turn it into a ball of yarn that is ready to be used. Ideally, we will have a variety of paper to explore yarns of different texture, flexibility and color, so feel free to bring books, newspapers, diaries, notebooks and other paper you would like to transform. We will have a few scissors, precision cutter, rulers and cutting boards available but it would be great if you could bring some with you. No previous experience is needed.