Anarchism for Beginniers
12 June 2018
Venue: Mayday Rooms, 88 Fleet Street, London, EC4Y 1DH
Organiser: Rebel City Collective
The Rebel City Collective is a group of class struggle anarchists in London whose aim is to spread anarchist ideas and practices more widely. We produce a paper called Rebel City which is now in its 8th edition.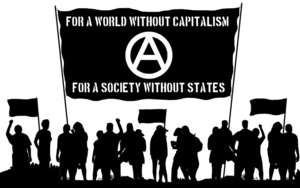 Anarchism is often represented in the media as meaning chaos and disorder. But nothing could be further from the truth.
This meeting, presented by a long-term active anarchists Rebel City Collctive, will explain in simple terms what anarchism is, its different forms, what it wants to achieve, and how it might deal with difficult issues, such as police and prisons, for a future society .
There will be plenty of time for questions and discussion.