Archiving from Below: Countering Education
14 June 2018
Venue: Mayday Rooms, 88 Fleet Street, London, EC4Y 1DH
Organiser: MayDay Rooms
MayDay Rooms is an educational and organising space for social movements in the centre of London. Our building contains an archive of historical material linked to social struggles, experimental culture and the expression of marginalised and oppressed groups.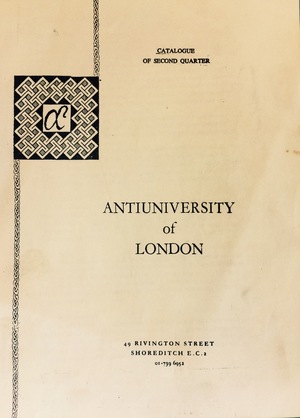 'The schools and universities are dead. They must be destroyed and rebuilt in our own terms', Joseph Burke wrote in an in a introductory text about the Antiuniversity of 1968.
Taking this idea as a starting point, this workshop to will explore archival material from the MayDay Rooms collections to see how comrades from the past attempted to radically reconstitute what was meant by education.
Through delving into an array of choice archival morsels from groups such as the original Antiuniversity, Libertarian Teachers Association of 1966, East London Big Flame, the militant prison-based pedagogy of NEPA News and many more, we will explore how these inspiring interventions from the past can help us critically counter educational practices of the present and rebuild them on our own terms.