Art For The Not Yet Born (Pregnant Woman Event)
20 June 2019
Venue: Bertrand Russell Room, Conway Hall, 25 Red Lion Square, Holborn, London WC1R 4RL
Organiser: Francesca Tamagnini
Francesca Tamagnini, born 1976 – Performer, visual artist and healing researcher. She's a firm believer in Art as a form of human development and healing and she's interested in studying family patterns. Among others, her background sees her studying with the filmmaker and "Metagenealogy" creator Alejandro Jodorowsky and the Intuition focused researcher Laura Day, while attending the Arthur Findlay College of Spiritualism.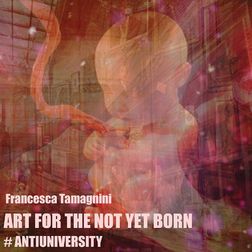 What would happen if we started consciously teaching our children from the very (VERY!) beginning?
What if we start choosing the experiences we are going to have for the person who's growing in the womb to enjoy?
Would a mum make different choices?
Being aware that the developing infants are ALWAYS feeling everything, this experiment aims to offer a focused sensorial experience for the child.
What happen in the 15' session ? The mum (alone, or with a friend or a partner) will be laying down while visual artistic contents will be projected at the same time on both her belly (*which will serve as the screen for the child :) * ) and on a wall for her/them to enjoy. Quiet music/commentaries will be available through a set of headphones to be placed on the womb (for the child) and through speakers. (Every ticket will admit one person (or couple) to a 20mins free individual session. On first come, first serve basis)