ART4MINDS: Visualising Creativity
12 June 2018
Venue: 504 Ridgeway Road, SW9 7EX
Organiser: Sara Stenbæk
Sara Stenbæk is a Danish illustrator and participatory arts practitioner who focuses her practise around art and the mind. Sara has a degree in Psychology from Roskilde University where she studied creativity and education. Last year she started an MA in Applied Anthropology and Community Arts at Goldsmiths but interrupted due to being completely disillusioned with the current formal educational system. She has over the last couple of years been running workshops around London using meditation and art to help adults and children alike connect with their inner creativity.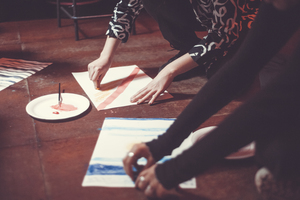 Creativity seeps into all aspects of our lives and practising meditation creates space in the mind to think more creatively so we don't get stuck in our thoughts and routines.
ART4MINDS believe that nurturing our creativity is important as the creative flow is a powerful tool for self-discovery and can help us relieve stress and anxiety. A lot of our mental health issues today are caused by the pressure put on us living in a Capitalist society. Unfortunately it is becoming increasingly more difficult to access mental health services in the public sector. ART4MINDS is a DIY self-help group using meditation and art to create a therapeutic environment for people to express themselves and hopefully relieve some of the stress they may experience in their lives.
The workshop starts with a meditation where you will be taken on a journey to the depths of your emotional and spiritual being to visualise and explore your inner creativity. After the meditation we will be turning our journey into works of art with the materials provided.
The workshop is open to all. No experience required!
Refreshments available at the venue