Autographic Zine Workshop
15 June 2019
Venue: Liverpool School of Art & Design, John Lennon Art & Design Building, Liverpool John Moores University, 2 Duckinfield Street, off Brownlow Hill, Liverpool, Merseyside, L3 5RD
Organiser: Bee Hughes & Matt Johnson
Bee is an artist, researcher, activist and lecturer based in Liverpool. Her current work uses autobiography, cut-up, performance and printmaking to explore menstrual stigma. Matt is an academic and image maker based at Liverpool School of Art and Design.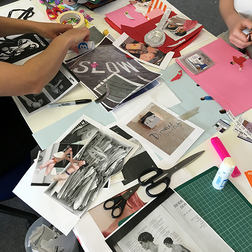 The workshop is an inclusive space for exploring and thinking about identity through autographic image making, storytelling and zine-making. A briefing session on Monday 17th will give you an overview of available drawing and image-making techniques.
Tuesday is time for you to gather images independently.
On Wednesday we will meet back at the art school and workshop stories and sequences for your zine, on your own or with help from the workshop team. Once you've created your images / stories we will endeavour to produce a set of zines that you will be invited to display at the Liverpool school of Art and Design.