Bibilio-in-out
22 June 2019
Venue: Sull, Capitol Shopping Centre, Queens Street, Cardiff, CF10 2HQ
Organiser: Sull
Sull is a group of cross-disciplinary artists based in Wales and its borders. Our physical site is in Capitol shopping centre, Cardiff, which is supported through Axisweb's Vacant Space scheme. Our group is non-hierarchical and all events and activities programmed in the space are either guided by the practice of the associate(s) artist(s) or reflect Sull's ethos to foster a supportive environment in which to explore ways of working; individually, amongst ourselves and with others. Sull Associates 2019: Sarah Boulton, Rosey Brown, Jenny Cashmore, Lauren Heckler, Gweni Llwyd, Lydia Meehan, Jodie Nicholson, Abigail Sidebotham, AJ Stockwell, Amy Treharne, and Gundija Zandersona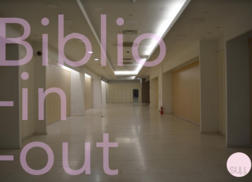 Biblio-in-out is an invitation to share a space for a day, to read quiet and aloud, to listen, to challenge, explore and experiment with text.
Centring around the act of reading, both as a private and public act, Sull will act as an ad-hoc library / research facility with spaces for reading, discussion and exploring alternative methods of collective reading. Bring your own books or other reading materials that you want to share/have been putting off reading. Throughout the day lines of text from what has been shared will be collected to create a collective collage, which we will read together in closing the event.
Biblio-in-out is a free event where everyone is welcome regardless of your educational background. We hope to see you here.