Bread Sculpture Event: Episode 2
14 June 2018
Venue: Birdsmouth Studios, 5 Birdsmouth Court, Lawrence rd (look for the plant pots) , N15 4FW
Organiser: Eva Freeman and Rose de Borman
Eva Freeman and Rose de Borman are textile and ceramic artists who came together over a shared passion for making things and the desire to end the tyranny of landlords through housing activism. Eva and Rose have delivered a number of workshops and experiments together over the last 2 years. This is their second bread sculpture extravaganza.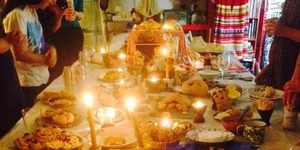 Make Bake and Partake The entire artistic process in one evening. Make an art work, have an exhibition, eat the art.
Wars have been fought over bread, masses have been subdued with bread, effigies have been eaten of bread and rituals created for bread. We will attempt to make a modest contribution to this rich history of wheat based baked goods by indulging in an evening of experimentation, exploration, feasting, sharing and dancing, creating our own collaborative bread ritual. It is 'the staff of life' after all. Come and make bread sculptures while we entertain you with tales of bread related folklore and historical anecdotes, before sharing the edible artworks over a glass of wine (byob)
Dough will be provided but feel free to bring your own. Some dips and spreads to accompany the eating will be provided but also welcomed.