Change Money, Change The World
13 June 2018
Venue: Hackney Showroom, Hackney Downs Studios, Amhurst Terrace, London E8 2BT
Organiser: Positive Money
Positive Money is part of a global movement to democratise money so that it works for society and not against it. We're working to tackle an issue that is at the root of many of the social and economic problems that we're facing today. The control of the creation of money, in the hands of banks, has contributed to: unaffordable housing, high unemployment, high personal debt, growing inequality, high government debt, and financial crisis and economic instability. Positive Money campaign and research for an economy that is fairer, more democratic and sustainable.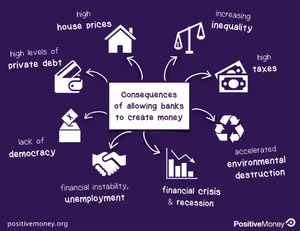 Where does money come from, who creates it, and decides where to distribute it? Do politicians and economists mystify the system to prevent us from kicking back? Do you ever get this nagging feeling that if you could just understand how the economy works, you could figure out how to fight for a more equitable society? Is another financial crisis inevitable and what can we do about it? Are there any alternatives to our current system, and any evidence that they will work?
Positive Money will host an accessible, informal workshop-lecture-discussion, which will look at where money comes from, why this is a problem, and what we can do about it! No prior knowledge of the economy needed - but you will walk away from this session with some facts about the money and banking system which will blow your mind, and new tools to talk about the economy in a way that is simple but engaging, and seeks to challenge the system. KNOWLEDGE IS POWER!