Design Your Own Tarot Workshop
19 June 2019
Venue: Raven Row, 56 Artillery Lane, E1 7LS
Organiser: Lawrence Pardoe
Your organiser is an artist who is looking for the sham in shamanism.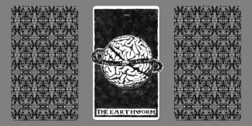 Can we reimagine the archetypal structure of the Tarot collaboratively? In this workshop we will investigate.
The tarot is a symbolic framework that maps complementary forces: conscious - subconscious; self - other; individual - collective. Tarot readings can be used to interpret universal archetypes as a means for personal evaluation. But what if we invert the formula?
What are the symbols that structure our cosmos and how can we re-imagine them to collectively transform ourselves and our actions in the world? In other words, rather than simply interpreting symbols, how can we change them?
Situated between a social experiment and a performance without an audience,the session will allow us to come together to design a new speculative tarot deck and do a group reading from it.
The session will include:
An introduction to the elemental structure of the tarot
Symbol generation exercises
Creating a deck of cards collaboratively
Doing a reading from the deck we produce