Experiments in Sonic Corporeality
15 June 2018
Venue: Gildengate House (Outpost Studios), Upper Green Ln ,Norwich, NR3 1AX
Organiser: Lou Barnell with Outpost Gallery
Lou Barnell is a multidisciplinary performer, sound artist, musician, social researcher, and arts activist. She is undertaking a residency at Outpost Gallery in Norwich. Her solo work explores mysteries of flesh, body, and knowing, by experimenting with her voice, improvisation, choreography and sound. The musical body and personal ritual, and its relationship to space, time and society, is an ongoing performative, consumerist process. As a dyspraxic female artist, Lou is inspired by feelings of disorientation, and coordination, and contradictory limitations of being a body under surveillance versus the freedom of human dreams and imaginings. Image credits: hannah Lovell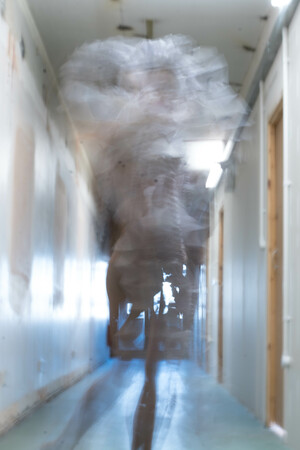 This session will explore a drastic enquiry into music and performance practice where movement, dance and performing and improvising with sound, unfold in an ongoing co-constitutive process with our physical, psychological and social 'becoming'. We will test sensory assumptions and parameters to make experimental sound and music composition.
The workshop will:
Improvise and perform with movement and sound to test and create sensory scores and patterns. These will explore our bodies' limitations, questions, and relationships between knowing a space, each other, and sound.

Explore our perceptions of body boundaries, orientation, and disorientation.

Use a practice based approach to discuss relevant theories (for example, neo Marxist thinking on consumerist bodies, Butler's Gender performativity, and Stover's 'musical-objects-as bodies')

Introduce techniques of 'Deep Listening' and 'Sonic Meditation' inspired by the late composer Pauline Oliveros.
Please wear comfortable clothes you can move freely in. You are most welcome to bring text, instruments or sound-making items to experiment with. You don't need any experience of Art or Music to attend- just enthusiasm! To book email questions@norwichoutpost.org