Frunch
15 June 2018
Venue: G39, Oxford Street, Roath, Cardiff CF24 3DT
Organiser: g39
G39 is an artist-run gallery in Cardiff. The gallery presents a wide-ranging programme from major exhibitions and formal symposia to experimental projects and intimate events. In addition to the exhibition programme the organisation also runs Wales Artist Resource Programme – WARP - an open-access resource and training space for artists. G39 focuses on contemporary work and consciously programmes a mix of work from Wales with work from further afield, placing work by established names alongside work by emerging or lesser known artists. The focus is on experimentation and risk and g39 aims to provide the opportunities to showcase new work.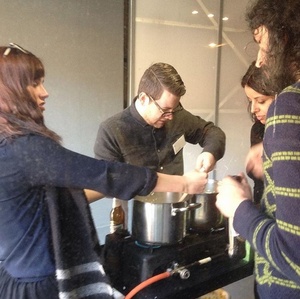 On Fridays g39 staff members take it in turn to cook for each other and eat together, we call it Frunch (Friday-lunch). It is an informal and relaxed way for us to foster conversation beyond work related discussions and keep in touch with what our colleagues are involved with beyond our organisation.
Antiuniversity Frunch invites you to join us in conversation while preparing and sharing food, to talk about the importance of this type of activity within organisations.