Handmade Film for a Post-Police World
9 June 2018
Venue: Brunswick Club, 15-16 Brunswick Square, Bristol BS2 8NX
Organiser: Marcy Saude / BEEF (Bristol Experimental & Expanded Film)
Marcy Saude's work in time-based media involves subjects such as marginal histories, the landscape, counterculture, radical politics and language, and has been presented at venues and festivals, artist-run film labs and project spaces internationally. Bristol Experimental & Expanded Film (BEEF) is an independent film and sound collective, supporting experimental practice in Bristol.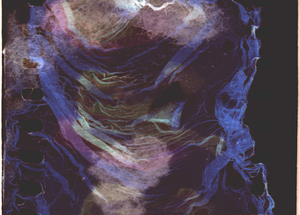 This workshop dips into the potential of photochemical film to enact radical media critique via appropriation, transmutation of digital images into tangible form, and manipulation. Together we will explore "DIY DI" (digital intermediate) by re-filming from a computer screen onto 16mm, process our film in developers made from common household ingredients, and then alter the footage using physical (scratching, burning) and chemical (bleach, washing soda, dyes) methods. The subject of the day's capture and transmogrification will be the endless procession of series and films with law enforcement as protagonist(s).
During the periods of waiting inherent to hand-made 16mm filmmaking processes, we will hear briefly about the historical development of policing in the UK and the US in relationship to slavery and capitalism, connect with contemporary struggles against police violence, and discuss the possibility of breaking through dominant media imaginaries to envision a world without cops via community-based alternative justice strategies and DIY photochemical filmmaking.