How can we use creativity for self care
16 June 2019
Venue: Dragon Coworking 7-8 New Rd Ave, Rochester, Chatham ME4 6BB
Organiser: Francesca Baker and Natasha Boardman-Steer
Francesca is a creative wonderer and wanderer with a zest for community and connection. www.andsoshethinks.co.uk @andsoshethinks Natasha is a Freelance Creative Practitioner, Mental Health First Aider, who runs workshops for all ages and is currently working in arts in criminal justice. www.creatabot.co.uk @natashasteer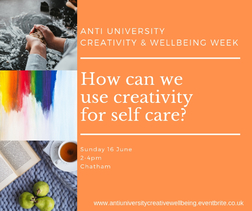 How can we use creativity for self care?
That's the topic of this workshop, featuring discussion, creative exercises, and top tips. We'll look at the importance of self care, why we should all priortise it, and how creativity can support. We'll get chatty, and maybe a bit messy, and leave feeling inspired and nourished.
This event is part of Antiuniversity Now festival - 15-22 June 2019 - and Creativity and Wellbeing Week - 10-16 June 2019.