How to Maintain An Afro in The Wake of A Zombie Apocalypse
13 June 2018
Venue: Mayday Rooms, 88 Fleet Street, London, EC4Y 1DH
Organiser: Diary of A Black Tree
I am an artist, activist and anthropologist whose work centres on the black female body politic, intersectionality, post-colonial theory and environmental activism. I currently guest lecture at Winchester University, run a small online gallery and support students with disabilities at University.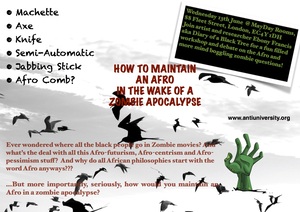 This lecture / workshop will explore all aspects of maintaining an afro, including combs, types of shampoo, to pre-poo or not to pre-poo, hair grease, hair oil, hair pomades and conditioners, as well as how, in moments of adversity - i.e. a zombie apocalypse - such a hairstyle could be maintained.
This lecture also serves as an investigation into theory of afro-phobia, afro-pessimism, the black body politic, and afro-futurism and the context of science fiction / fantasy, where black bodies are often void and why the word "afro" is used for African philosophical thought.