Introduction to Rebel Tango
15 June 2019
Venue: Limehouse Town Hall tbc
Organiser: Rastko & Carolyn
We've been dancing Argentine tango for seven and fourteen years, respectively. We have experience in activism, community organising, trade unionism, radical education and queering/ subverting the world around us. We've been teaching free, feminist, queer, anti-capitalist tango classes at The Field in New Cross for the last few years, and would like to introduce queer tango to more people.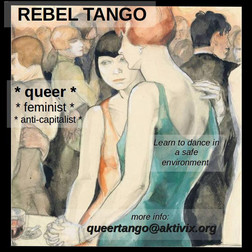 What is Rebel Tango? A space for queer, feminist and anti-capitalist tango dancing.
Queer tango is traditional Argentine tango dancing, without fixed/ gendered roles. This means that everyone gets to lead and follow, and experience the dance from both perspectives. Queer tango is for everyone, not just those who identify as queer.
We believe that tango is better without stereotypes of male-dominated dancing, unrealistic body image ideals and consumerist thinking.
This session is beginner-friendly; no prior dancing experience necessary; you can come on your own; wear shoes that don't grip the floor, or bring socks.