Knit the Walls at Bouldershack
10 June 2018
Venue: Unit 4, Imperial Park, Empress Rd, Southampton SO14 0JW
Organiser: Sarah Filmer
Boulder Shack is more than just an awesome bouldering centre, it's a space to meet and share new experiences, build friendships and give back to the community.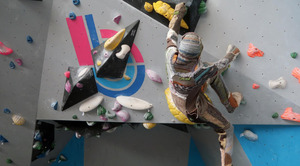 knit the walls is a participatory community artwork generated by the people of southampton for future exhibition in god's house tower. the project has been going for two years and has its own ever growing community.
we regularly partner with other groups and organisations to discuss ideas of walls and boundary, as we knit a glorious woolly version of southampton's medieval walls. our june session will be an indoor/outdoor meeting at 'bouldershack' southampton's fantastic bouldering gym where walls are there for climbing.
come along for knitting, talking, gardening, climbing, and (of course) great tea and cake. https://www.youtube.com/watch?v=2vcYsJgRh6w&authuser=1