Reading Room Launch
19 June 2019
Venue: Conway Hall, 25 Red Lion Square, Holborn, London WC1R 4RL
Organiser: Reading Room
Reading Room is a nomadic and collectively run reference library and bookshelf on wheels, focusing on small press. It is run by Leonie Rousham, Ishwari Bhalerao, Bea Macdonald and Sally Plowman.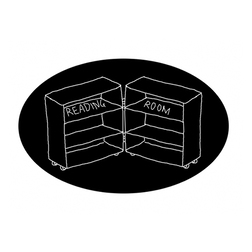 We are planning on holding a launch of Reading Room as a means of creating connections and opening dialogue about the function, aesthetic and user culture of library collections and small press production in the age of digital information, and their development in an austerity-stricken future.
Primarily, Reading Room will be set up as a space to read our collection (including poetry, dissertations, comics, political essays, visual essays and non-conventional books). The four of us who run it will each do a 5-10 minute reading/performance around the function of Reading Room, and we will hold an open mic for anyone else to contribute a reading or speak their thoughts.
The launch would be open to the public, as well as everyone who contributed content via our open call - most of whom have no other connection to us or each other. We want this event to connect everyone, focusing on the human/community element of small press and addressing issues around circulation and reach. Our own performances and the content available to read will hopefully spark further discussion.