Role Play a Coop
10 June 2018
Venue: 416 Redwood Housing Co-op, Oxo Tower Wharf, London SE1 9GY
Organiser: Georgina Sullivan + Irene Montero
Georgina Sullivan is a communications support worker and Irene Montero is a cultural worker and student. Both are interested in cooperatives as a way of improving access to education and labour conditions.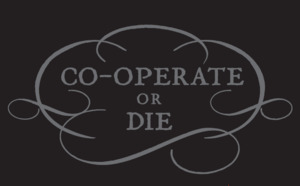 Fed up with your precarious working conditions as a cultural worker? Come and join us for a day of collective learning and fun discovering how to set up a co-op and roleplaying one. In the morning, we will be reading and discussing materials how to set up co-ops; in the afternoon, we will split in groups to roleplay setting up and running a co-op. This will include a game of Co-opoly, the cooperative version of Monopoly. We will finish with a plenary session where we will share the different sets of rules established in each group, the issues encountered during our roleplay and the solutions that we found.
Important: If you have had experience with radical co-ops in the 1970s and/or 1980s we really want to hear from you!
Organised by Precarious Workers Brigade + Friends, a group of cultural workers that met at the encounter "Culture + Work at Point Zero", organised by Precarious Workers Brigade in April 2018. Tired of our precarious working conditions, we are interested in learning about co-ops and exploring their possibilities as a way to a better and happier professional life.