Sense
18 June 2019
Venue: Grow, 98C Wallis Road, Main Yard, Hackney Wick, E9 5LN
Organiser: Sense
Sense is a collaborative project founded by Patricia Puertas, Joel Smith and Xuân Sinden with support from Grow, Hackney. Patricia Puertas and Joel Smith have previously worked together in diverse sound performances commissioned by British Museum, Royal Academy of Arts and UAL, explore and experiment with sound to create rich, textured soundscapes. Featuring ethereal siren-like vocals and shimmering, effects-laden guitar motifs shifting across a fluid canvas of field recordings, found-sounds, samples, grooves and live improvised sounds, their performances continue to evolve. Xuân Sinden is an installation and sound artist whose work begins from the poetic process of documenting the mundanity of our everyday environments. Creating a pattern of image and sound, Sinden captures the various tensions, and pleasures, of living amongst the "movement of [our] imagination forming and deploying through images." [1]. His immersive installations portray the notion of a constant, and revolving city. About Grow, Hackney An Experiment in Ethical and Sustainable Business. Grow is an independent and self-organised eco-system of studios and a creative space with bars and a kitchen, created out of an old sausage factory by the River Lea in Hackney Wick. Grow works in partnership with artists, musicians, DJ's and community groups and host a diverse programme of events, including: live jazz and blues, open deck reggae, workshops and talks and art/film festivals. Grow pays London Living Wage, uses eco-electricity, sources ethically and locally and is free entry, wherever possible. Grows currently serve a seasonal menu and range of drinks, including organic wines and prosecco, cocktails, homemade Hackney Spiced Rum, cask ale and also offer a range of soft drinks including Kompassion Kombucha, Rejuce, Charitea, Hackney Herbal Tea and Union Coffee.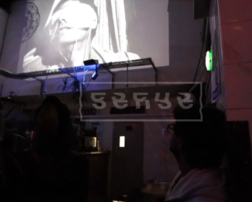 Sense is a collaborative audio-visual platform for artists to network and present their work through a series of events that explore various themes. Having explored the themes: Perception, Rhythm and Vibration, Sense is curated in order share knowledge and share the process of making of the work that relates to each subject.
At Sense, the audience is encouraged to ask questions and be curious in order to promote collective learning.
For Antiuniversity 2019, Sense invite artists to perform, exhibit and talk about their work, and specialist to facilitate workshops and talks. Potential artists and specialists include: Parker Heyl, Richard Underwood, School of Noise, Subpac, Gaunt.
Daytime: workshops and talks Evening: performances