Smiley Eyes: Art Therapy Workshop
14 June 2018
Venue: Croydon Arts Store, Unit 46/47 Trinity Court, Whitgift Shopping Centre, Croydon CR01UQ
Organiser: Rosie Mills Eckmire
Rosie Mills Eckmire is an independent artist living and working in Croydon, South London. Her artwork focuses on the fragility of emotions and mental states and aims to increase understanding of mental health issues and her wider practice involves art making and collaborative working to promote empathetic living.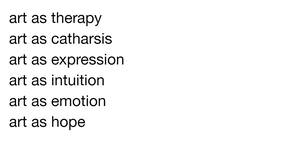 The event will comprise of a group discussion led by the artist (Rosie Mills Eckmire) followed by an hour of self-guided creative time, a workshop designed to improve access to expressive, intuitive art making.
The results, with permission, will be collected and released in zine format.