Social Centres Past and Future: A Utopian History Walk
22 June 2019
Venue: Multiple venues: Meeting at The Common House, Unit 5E Pundersons Gardens E2 9QG, then moving to Decentre, then LARC, then the Field.
Organiser: Social Centres Network
The Social Centres Network has existed in some form since the 2000's, and exists today as a loose network of people involved in running the UK's autonomous social centres. The London network is part of the broader UK social centres network, and aims to share resources among the social centres, disseminate information and news, and sustain radical community in London and the UK . For more info please see:https://en.wikipedia.org/wiki/Social_centres_in_the_United_Kingdom#London_Social_Centres_Network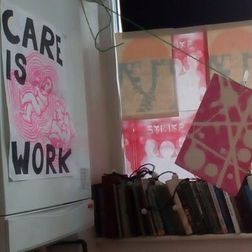 What are social centres? How are they run, funded and maintained? How have London's social centres changed in recent years, and what will they look like in 2030? Or 2100?? Join us for a participatory workshop and travel through London's social centres, past and future. Social centres often look like a mix between volunteer-run DIY bars, non-for-profit vegan cafés and local community centres, but are neither companies nor charities. Sharing the principles of co-operation, self-organisation and mutual aid, social centres are organised non-hierarchically, and offer a physical space and resources to activist groups and grassroots campaigns working towards social change.
In this guided tour, co-facilitated by members of the Social Centres Network, we will visit some of the centres currently operating in London, pass by buildings that used to be such spaces, and collectively imagine the kind of spaces that we would like to see open in the years to come. We will walk, take public transport (when needed), share food and drinks, look out for one another, and go at the group's pace. All welcome; parents with young children especially welcome. If you have any particular accessibility needs you'd like us to take into account please contact us.