Talking Ghosts: A collaborative Hoarding Novella
16 June 2019
Venue: Location details will be given on booking (East London).
Organiser: Alberto Duman
Alberto Duman's work is located at the intersection between art practice, regeneration and urban studies and always concerned with social contexts and the role of art in the cultural production of urban space. In 2016 he was Leverhulme Trust Artist-in-Residence at University of East London with the project Music for Masterplanning. The anthology of texts from the project titled 'Regeneration Songs: Sounds of Opportunity and Loss from East London' is out now on Repeater Books. Currently he is a Lecturer in Fine Art at Middlesex University teaching with Loraine Leeson on the BA/MA Fine Art Social Practice module. Since 2014 he also works with the group DIG Collective.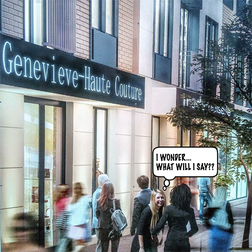 Who are the 'talking ghosts'? They are those strange people populating the CGI-created urban spaces of new housing/public space developments advertising their forthcoming arrival. I call those people 'ghosts in reverse', whose function is to colonise the urban future in advance of our presence. In so doing, they enter in some form of messianic dialogue with the present time of those encountering them as the passers-by of today. That's us! In this collective intervention we will work together to give the gift of speech to these ghost citizens by devising the script of a 'hoarding novella' made up of custom designed, adhesive speech bubbles to be inserted into an existing hoarding whose characters will become our actors. These 'mediums' will be ventriloquists for our thoughts, materialised as we come together on the day. We will think together and then act together. No vandalism involved, as the speech bubbles can be easily removed. Location tbc after booking.