Tarot: An introduction to the Major Arcana
22 June 2019
Venue: Limehouse Town Hall, 646 Commercial Road, E14 7HA
Organiser: Chris Wood
Chris Wood is an artist whose practice critiques emergent technologies and the shifts they bring to both social practice and ontology. He has been using the tarot in his artistic practice for the past three years.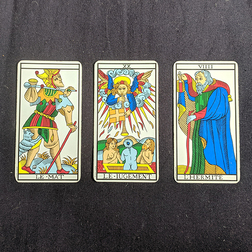 In this general level workshop we will take an overview of the major arcana in the tarot. The major arcana are the powerful and perhaps best well known group of cards within the deck. They include the fool, the hanged man, the moon and others. The session will be structured as an introductory talk followed by individual and group work becoming familiar with the major arcana and practicing readings.
The workshop is suitable for total beginners and the curious as well as more experienced readers interested in discussing approaches to the major arcana.
In my own practice I find tarot useful, not so much for telling the future, but as a process of telling stories about a given situation, our desires and patterns of behaviour. Readings can draw attention to things we may have missed in our planning or understanding. This is the sprit in which I will approach the workshop although participants may find their own angles and processes.
You are encouraged to bring their own deck if you have one. I will be using the Marseilles deck in my examples, but all decks are welcome.