The Poverty of Quasi-Student Life
17 June 2019
Venue: Mayday Rooms, 88 Fleet Street, London EC4Y 1DH
Organiser: Common Study
Common Study is a collaborative attempt to confront the contradictions of life under capital. Within the group, individual practices engage art, music, poetry, performance, moving image and activism. Collectively, Common Study aspires to develop a non-standardised, oppositional form of education and practice, exploring themes of critique, pedagogy, friendship and artistic autonomy. Individual concerns become common interests; common concerns become individual interests. Present members are Mike Brooks, Lisa Busby, Katie Hare, Louis-Jack, Anneke Kampman, Theo Leanse, Sam Mercer, Hugh Nicholson, Jo Sweeney, Marie Toseland, and T J Watson.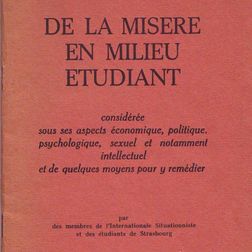 Addressing the present condition of art, education and politics, Common Study lead a conversation concerned with radicalism and studentdom, in both its official and unofficial guises.
In the first half of the event, participants will read 'On the Poverty of Student Life' written by the Situationist International and students of the University of Strasbourg in 1966; this reading will attempt to mediate the text's insight with a discussion of recent historical events. After the reading, we will discuss the broader possibilities and limitations of "quasi-studentdom", as manifest in contemporary art's turn to expanded educational practice.
How have recent developments within education affected artistic and political activity? What, if anything, should we reclaim from the Situationist's legacy? How should we understand the relationship between art and academia today? What might constitute a politically astute response to present conditions?