The Temple of Black Dog
13 June 2018
Venue: Our Place, 1 Alpine Grove, London E9 7SX
Organiser: Marina White Raven
Marina White Raven is a multi-dimensional artist with a process based inquiry that integrates art and mysticism in performance, installation, ritual and song. Her work addresses polarity, sexuality, spirituality and nature; exploring how these inter-twine with individual and universal identity and reflect the light and shadow of human experience. MWR inhabits a cosmic menagerie of personas and animal spirits, challenging the artist ego identity and inviting the public to engage in personal, intimate, connection. Her desire to elevate and merge with the spectator is a political act, exposing traditional theatrical pretensions of audience passivity and social separation (sitting quietly and invisibly in the dark)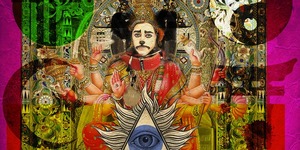 The Temple of Black Dog: Reframing Depression and Death in an age of brutality and numbness.
A participatory, multi-dimensional, psychedelic, deconstructed performance lecture; unraveling the story of Black Dog's heroic 1500 mile adventure 'on the road' from Seattle to LA in the wake of Trump's triumph in Nov 2016. The story maps the artist's journey of courage in the face of fear and how stepping into the chaos of the creative cycle may be navigated, danced and celebrated.
Black Dog welcomes your humanity: Come, rest your heavy burden, share your story, bring your joys and sorrows. All sufferings will be met and transformed into tail wagging wonder! Bread will be broken, buttered and shared. Wine will be poured. We will dialogue on the terrifying nature of Love, Vulnerability and Truth.