The Windrush Papers
19 June 2019
Venue: 62 Fieldgate St, London E1 1ES
Organiser: Kwaku
Kwaku is a music industry and history consultant. He's the BTWSC/African Histories Revisited co-ordinator, and organiser of British Black Music Month in June/July, International Reggae Day UK on July 1, and the year-long Spirit Of AJY87-88 programmes. His music and history programmes are posted respectively at www.BBM.eventbrite.com and www.AfricanHistoryPlus.eventbrite.com.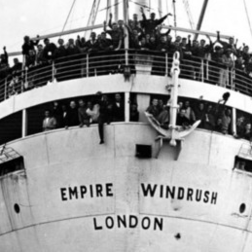 The Windrush Generation narrative has a lot going for it, particularly as a key part of African British history. Unfortunately, it is often littered with "bad history": myths, misinformation and conflations. History consultant Kwaku, through a very interactive presentation, will be challenging these "bad histories" by focusing on 1947-1950, the periods immediately before and after the arrival of the Empire Windrush from the Caribbean. His presentation will be based on records of the period, 'The Windrush Papers', thus providing a clear history of the genesis of the Windrush narrative.
Come and find more, in a space that allows attendees to ask questions and contribute to the development of the narrative. Be prepared to overcome some cognitive inertia and resolve some cognitive dissonance!