Under the Hackney Wick Paving Stones
12 June 2018
Venue: Stour Space, 7 Roach Rd, London E3 2PA
Organiser: Hackney Tours
Hackney Tours is a very personal project: joining the dots in East London since 2012, exploring centuries of dissent and radical politics and seeing how it connects with the contemporary culture of Hackney. And asking questions of the London of tomorrow. What kind of city do we want to live in? Who is it for? Much of this exploration has taken place around Hackney Wick and this artistic playground has been very important to Hackney Tours creative development. It's now a 'highly desirable residential area'. What does that mean? Who is this for? What kind of life is this for?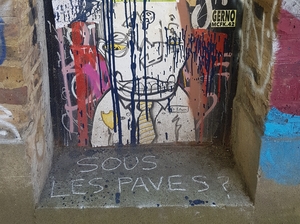 Hackney Wick is the intersection of countless political, social, spatial and artistic ley (fault?) lines. It's in a state of acute flux. Ideological battleground? Future London? On this walk, with a nod to the Situationists of Paris 1968, we're going to peel back some of those layers using the technique of the Dérive. We're going to try and find out what matters. We're going to look for the beach beneath the paving stones…
Bring a prop, bring an idea, bring an opinion: this is an experiment in collaborative learning and creation. Feel free to bring a pen and paper or even some crayons. It is not lecture. We're going to explore – physically and mentally. Can we find the beach?