Underground Basket Weaving for Beginners
15 June 2018
Venue: Three Doors Up, Queens Arcade Shopping Centre, Queen St, Cardiff CF10 2BY
Organiser: Gail Howard
Gail Howard's work both as a visual artist and a curator, explores and questions our relationship to our environment, touching on how the political, social, economic and the cultural impact on our lives. Motivated by the belief that art can be actively transformative, my practice as an artist/curator has developed through the initiating of acts of collaboration, negotiation and re-imagination. The work is site and people responsive, focusing on dialogue, engagement and legacy, with an emphasis on working with groups and individuals who may have been excluded, don't have an art background, or both.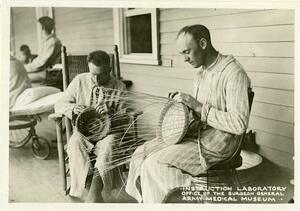 Join artist Gail Howard to learn the basics of ​basket ​weaving while exploring the history of basket weaving as an artistic and therapeutic practice.
Make a basket, talk about mental health, reclaim and reframe the idea of a 'basket case'. Or just make a basket.
Gail will be in Three Doors Up across two days - join for a morning/afternoon or stay for both days.