Visuals to Vocals: an Audio Description Workshop
9 June 2018
Venue: Hackney Museum, 1 Reading Lane, London E8 1GQ
Organiser: Jenny Pengilly
Jenny Pengilly is an artist and educator interested in bringing people together to share their perspectives and experiment with different ways to engage with museums.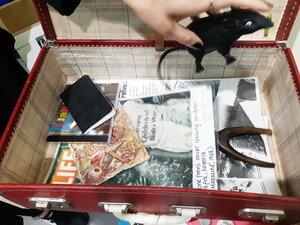 Verbal Description is a way of using words to represent the visual world, to help blind and partially sighted people form mental images of what they cannot see, whilst often providing sighted people with new perspectives.
Working with Hackney museum's handling collection, displays and exhibitions this workshop will introduce key techniques to creating effective verbal descriptions. Through a range of short activities we'll be exploring our senses and imaginations to develop playful and engaging descriptions and new ways of 'seeing'. Once you've created your verbal description they'll be the chance to create an audio recording.
What you'll get out of it -
Learn how to verbally describe objects and artworks

Learn about the museum collection and create and share your personal responses

New ways to experience the museum.

Exploring non-visual senses to create verbal descriptions

Audio recording of your verbal description