Your Time is Political
10 June 2018
Venue: Mayday Rooms, 88 Fleet Street, London, EC4Y 1DH
Organiser: Four day week campaign
We demand a 4 Day Week. We demand an increase in hourly pay. We demand a stronger welfare state. We believe that a 4 Day Week will benefit our society, our economy, our environment and our democracy.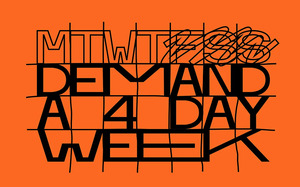 NOTE: this session is cancelled due to illness. We will plan to run it again on a different date. Apologies to everyone who booked.
Work structures our lives. It can give us a strong sense of identity and purpose, and can be a positive force that enables us to contribute to our local communities and to society at large. At the same time, the distinct effects of precarity on the one hand and presenteeism on the other can make work highly stressful, leading to insecure income and reduced productivity whilst damaging our physical and mental health.
The 4-day week proposes to build on what is good about work, whilst securing more free time so that we can live our lives to their fullest potential.
Join us for talks and discussion, as we explore the forces that shape our attitudes towards work and leisure and ask how we can begin to imagine new ways of understanding both.